Sexy Secretary
Set Description
This set was awesome to remaster! I might have even fallen in love with Nikki during the process. Those fucking freckles on her face are F I N E... fine! The more and more I process Nikki's content... the hotter and hotter she gets. I must have been way to busy back in the day shooting girls, drinking coffee, and sleeping to realize or notice some of the fine details and beauties of these girls, especially Nikki. She is truly one of a kind! Magical! More about the set below.
---
---
Interesting Outtakes
The outtakes in this set are interesting. There are 74 outtakes released with this remastering. And believe it or not... some of them are as hot if not hotter than some of the pictures in the set that made the final cut. There is this gleam in Nikki's eyes outside when she was putting the shoes on... she looks at my camera as if we had just went on a bumpy ride in the back of my Hummer H2. That gleam, those freckles, and the outdoor lighting... whoooooaaaaah! Speaking of the lighting, I released some of these outtakes twice. Once with the original shadows on her face and once with the exposure turned up to see more of her facial details. Interested in the outtakes now?
Concept Minus
The set concept. I dunno... we really did not have a major idea so we just called it a secretary set. And she sees herself on the Internet, gets hot, and starts posing sexy all over the desk... lol. Yeah that's the concept. So, the video is kind of just a behind the scenes of Nikki posing around. The photos... way more interesting and came out in the remaster process 30 times better than their original release. Sometimes with or without a concept... as long as you are shooting, shooting, and shooting, and she is posing... you end up with great stuff. At glance this set is a 6 out of 10. After going through the set and enjoying every pixel... it's a 12 out of 10!
Her Wingspan
There is a part of the video when we do the legs spread wide open shots. I love that it's on video... watching Nikki with her legs opened up like the wings of a 777 is a precious moment. Especially when it's for almost an entire minute, 51 seconds to be exact... and super kudos to my video guy at the time. He knew to keep the camera full body for that entire time. We get to see Nikki's full wing span!
More About the Video
More on the video. Even though it is behind the scenes and not a performed video, it's still quite lovely. There are so many shots that are hot and Nikki's facial expressions are cute. There are shot of those big boobs just bulging in that small c-cup bra. Definitely thirteen minutes of the girl next door that needs to be added to your collection.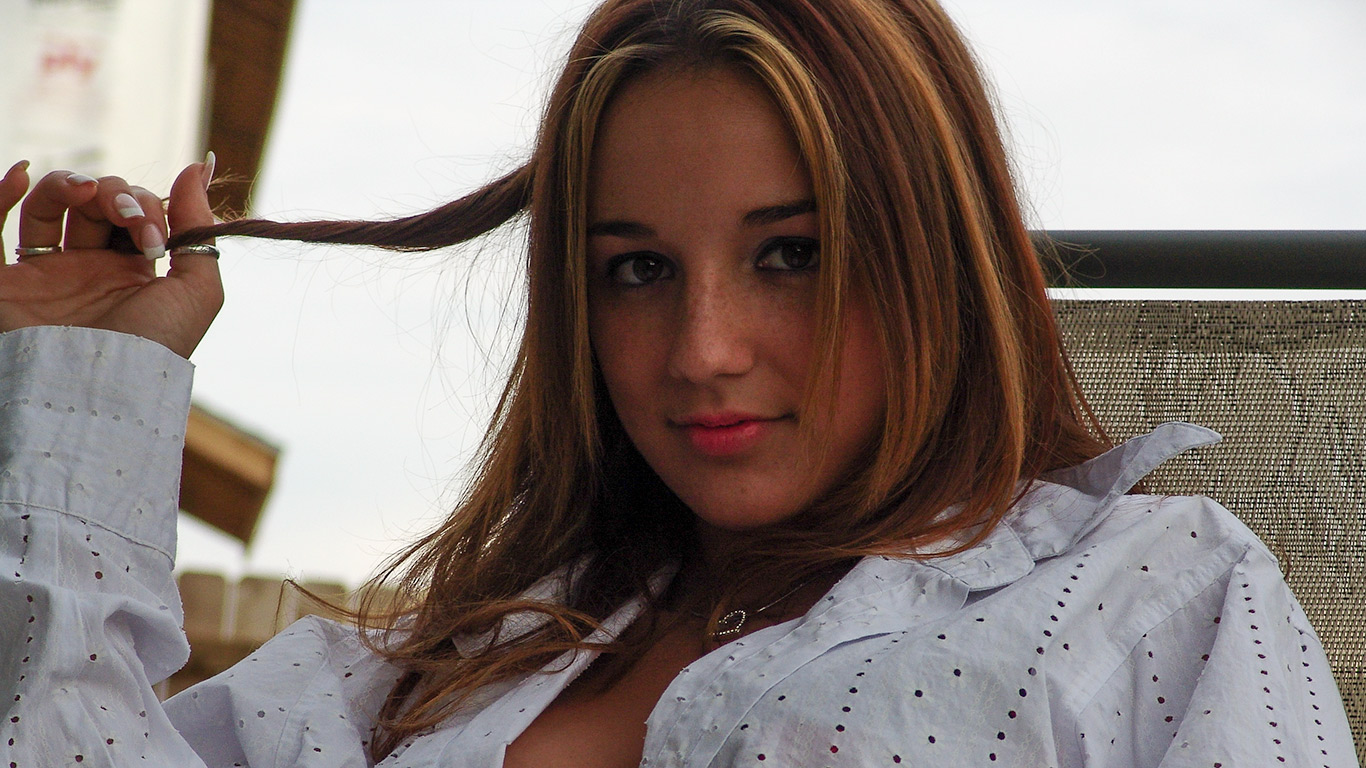 Sexy Secretary
Data Center
Go to Previous or Next Avaible Preview Set